The cashier handed me my receipt. "Have a good day." 

Where was my bag? 

Luckily I was wearing Little L's diaper bag, so I opened it up and stuffed the wet wipes and prunes in. When my niece K got out of the bathroom, I asked her what had happened.

"Oh, they don't give you a bag in California. You have to ask to buy one? Wait, do they give away bags in Minnesota?"

Do they give away bags? Oh, definitely. They frequently ask, "Would you like a double bag?" so that your bag doesn't break. At no extra charge!

This had me thinking. Maybe California was a little bit of Minnesota when it came to protecting the environment. 

But not THAT far ahead, as it turns out. What's this, you say? City of Minneapolis will CHARGE for bags beginning January 1, 2020. 

Have I forgotten my bags? Oh yes. But luckily at Lunds I have put my items in the bottom of Little L's stroller and that diaper bag has served as a grocery bag more than once. Plus at Costco, they still give boxes away for free.

And then came my Trader Joe's run on Martin Luther King Day.

I was blocks away from Trader Joe's when I realized not only had I forgotten to bring a bag, but I had also not brought Little L's diaper bag, because, well, I hadn't brought Little L ( turns out she was currently at home crying about this -- "Wittew Ew want to go to the store with Mama!").

I had considered getting soap and shampoo in addition to gyoza, but that would be a lot to carry without a bag. Should I splurge for a bag? 

I pulled into the parking ramp at the Trader Joe's downtown and patted my pockets as I was getting out of the car to make sure I had my wallet.

I didn't. 

Ugh. It was going to be such a waste of time to drive home and then come back to get the gyoza...

But I couldn't drive home, because in order to get out of the parking ramp, I either had to pay the exorbitant fee of $20 for one hour or else provide my validated parking stub. Which meant I had to buy something at Trader Joe's so that I could get that priceless validation sticker.

I couldn't even call Axel to come help me. This is where one car definitely was not to my advantage. 

And then I saw some quarters in the console. I counted them. Eight.

Surely they sell something at Trader Joe's that costs less than 2 dollars, right?

Not chips. $2.99. But you can get a bottle of crushed red chili peppers for $1.99. And there shouldn't be tax on food, so we are set. 

I torture myself by walking down the frozen foods aisle, and, indeed, the vegetable gyoza are practically overflowing out of the freezer. Last week when they were out at 9AM on Monday, they told me their shipment would be arriving soon - it turns out that 11AM on Mondays is the perfect time to come if you're hoping to stock up on delicious frozen goods.

As I'm standing in the checkout line, I see a small package of Trader Joe's peanut butter cups for 99 cents. These things are amazing. Plus, after this debacle, I deserve them right? 

And... I can even afford two bags, so I can share with Axel. Maybe. I ditch the crushed red pepper in favor of decadence.
When the cashier rings it up, the total is $2.14. Tax on dessert items - they aren't essential!

"Uh, can I just get one bag?" I explain my quandary, which results in them offering to pay for my second bag. 

"They're so good," the cashier tells me.

"Oh, no, thank you so much, but that's okay."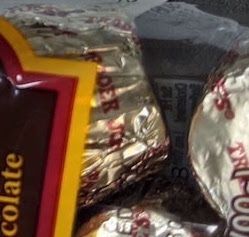 They hand me my receipt and my one bag of treats. I start walking away and then realize -- 
"Could I get a parking validation please?" 

They say something about me being an honest person and give it to me. Maybe you are supposed to spend more than $1.06 in order to get one?

I get back out to the car contemplating if it's worth it come back or if we could have something else for dinner - I think I saw some veggie burgers in the freezer.

Mental note: Keep a five dollar bill in the car for emergencies.

And then I remember.

Axel stashes a little bit of cash in the car! I'm trusting that you won't come after my car by me telling you this; truly, it's not very much.

I look under the seat**, and there it is. The brown envelope. There is enough cash in there for me to get four bags of gyoza!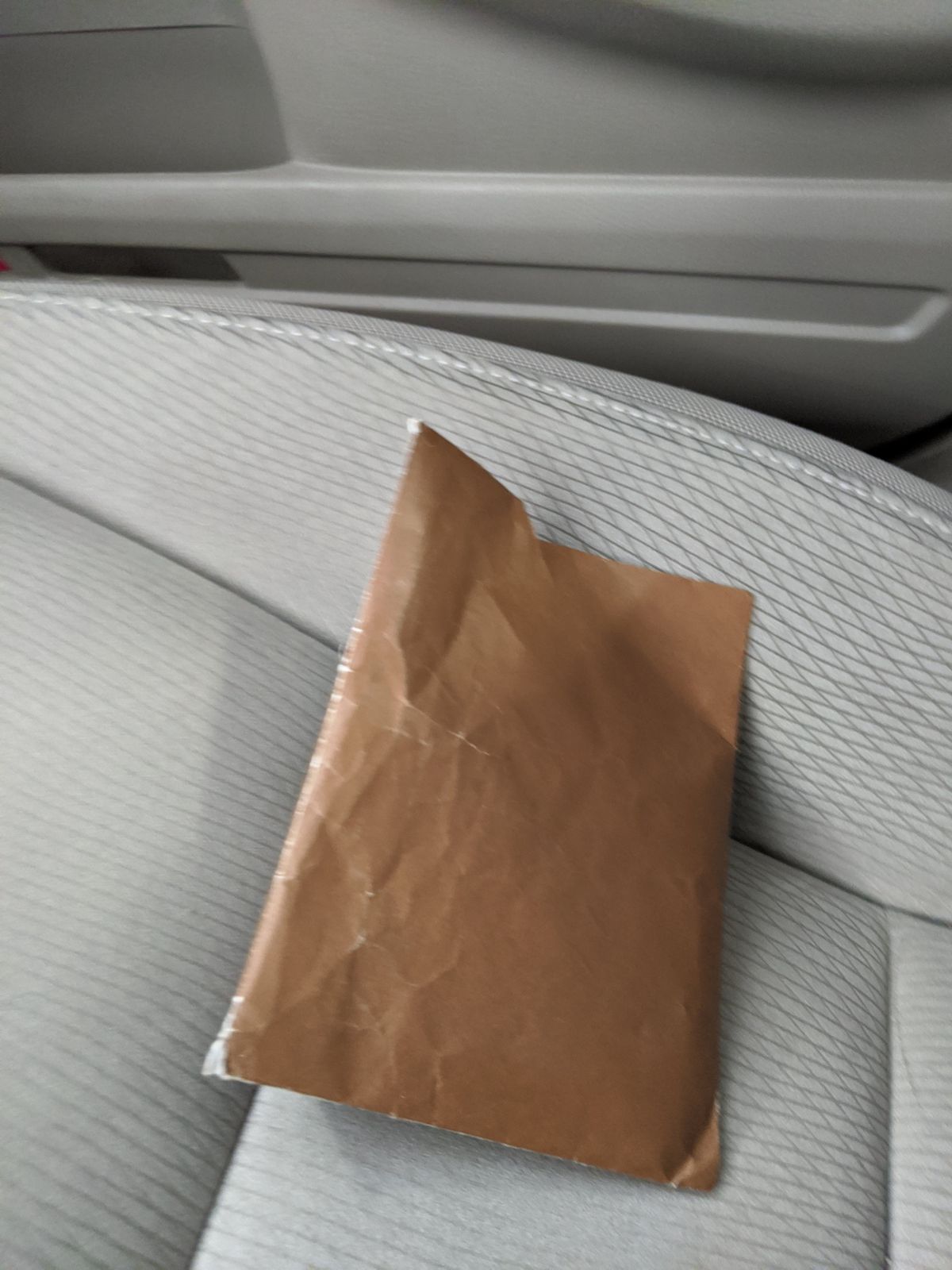 I speedwalk back in, triumphant. I grab my gyoza and head to the same cashier, telling them my happy news. 
I'm carrying the four bags of gyoza in my hand; I'm too happy to need a basket. And since I'm not getting any of those extra optional items, I won't even need a bag.
The cashier says "thank you" and drops my receipt -- into the paper bag.
The bag!?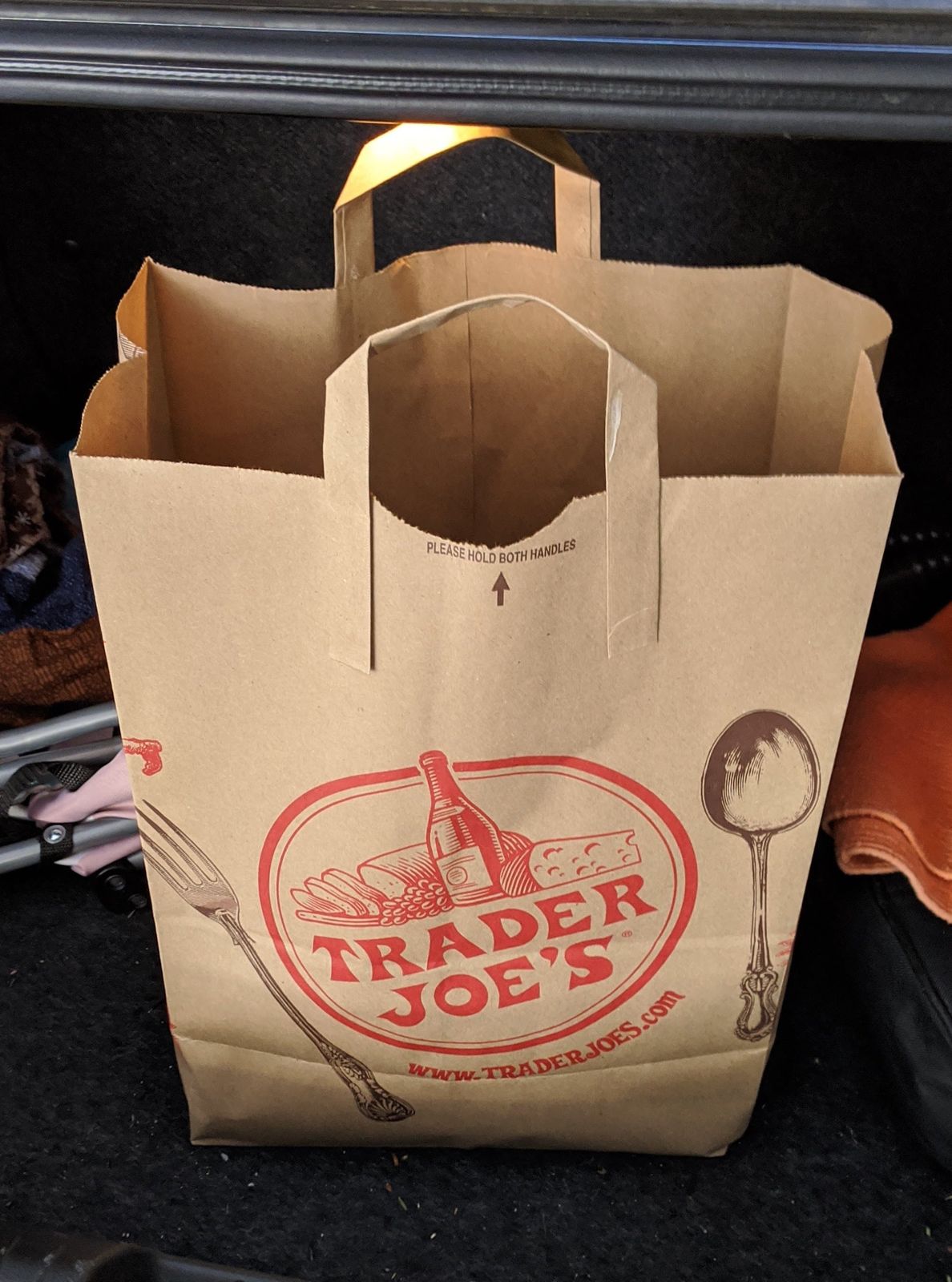 Without even charging me. Maybe because I was having a rough day. Or maybe this time they picked up the tab.

As I exit the parking ramp, before I can pull out my parking validation, the bar goes up and the screen says, "Have a nice day!"

Because it was a holiday, they weren't charging for parking in the ramp. I had never been stuck after all.

I got home and gleefully relayed my story to Little L and Axel. Axel solved the mystery right away - there was cash in the car! How come it took me so long to remember?

At the end of my story I reported the triumphant gift of the free paper bag.

"But I don't think they charge for paper," Axel told me. "Only plastic." 

So maybe I wasn't as lucky as I thought, but we had gyoza for dinner, and there were leftovers, and in our condo, that's a miracle. 

And don't worry, I promise to reuse the paper bag for taking the recycling out. And I'll put a reusable bag in the backseat of the car. Soon.

And no, I didn't buy the second bag of peanut butter cups when I had the chance. And I even shared the bag I did have with Axel. Even I was impressed with me. 

**Even though I trust you, I'm still not divulging the true location.