My recent video chat with Megan had her laughing as I told her a story of what happened to me when I went to the local vegan butcher to collect a no-contact pick-up order of packaged not-meat that would be placed in my trunk.
What I love about my friendship with Megan is that we save up funny stories to tell each other. So whereas with other friends you might feel like you were taking too much airtime if you just proactively said, "Hey, did I tell you what happened at the vegan butcher?" (a sentence that may not have occurred to you until just now), I know that when I tell Megan, she will be thrilled to hear what I have to say, make fun of me as I say it**, and probably get a kick out of it even though it's really not that funny. I think this need to share funny stories with each other started back in college when we would sit in the same computer lab and send each other emails about outrageous things we had seen people do.
So here it goes. Megan liked the story, and I hope you do too:
I sit in my car, nervously awaiting the appearance of an employee from the vegan butcher, who will run my order out to me and place it in my trunk. I put my sunglasses on for effect. Where are they? I feel like I am somewhere in between being on a blind date and being on a stakeout. I guess those spy skills my childhood friend and I honed back in the day really are serving me well.
After the sad news that one of our go-to neighborhood restaurants had closed permanently, I started thinking more about how to support local restaurants during this time, which so far has amounted to me crossing my fingers and buying a gift card to my favorite café, hoping I do indeed get the chance to use it someday.
Then when I was meal planning and realized we didn't have any tofu or meatless protein, Axel said, "What about the vegan butcher?" My sister-in-law had just ordered some vegan cheese and meat to be delivered all the way to California from them upon my suggestion - it was a no brainer!
But what about local orders? I checked out the website and was impressed by their protocol. I especially liked the part where they warned the customer to not get out of the car! We will place it in the trunk for you, they reiterated. Now that was an attitude I could get behind.

In my car on pick-up day, I sat there and the minutes passed, Eventually I figured out that I had texted the number that had texted me the confirmation code this morning, but I was supposed to text a number that was in an email confirmation from the day before. This was like being at the wrong Starbucks on a blind date. But I got it figured out. Out they came; it all went smoothly.
On to my second encounter at the vegan butcher. I pulled up into my parking spot of choice (always spot #6 - out of the way, no one else in sight). I sent my text to the correct number. And waited.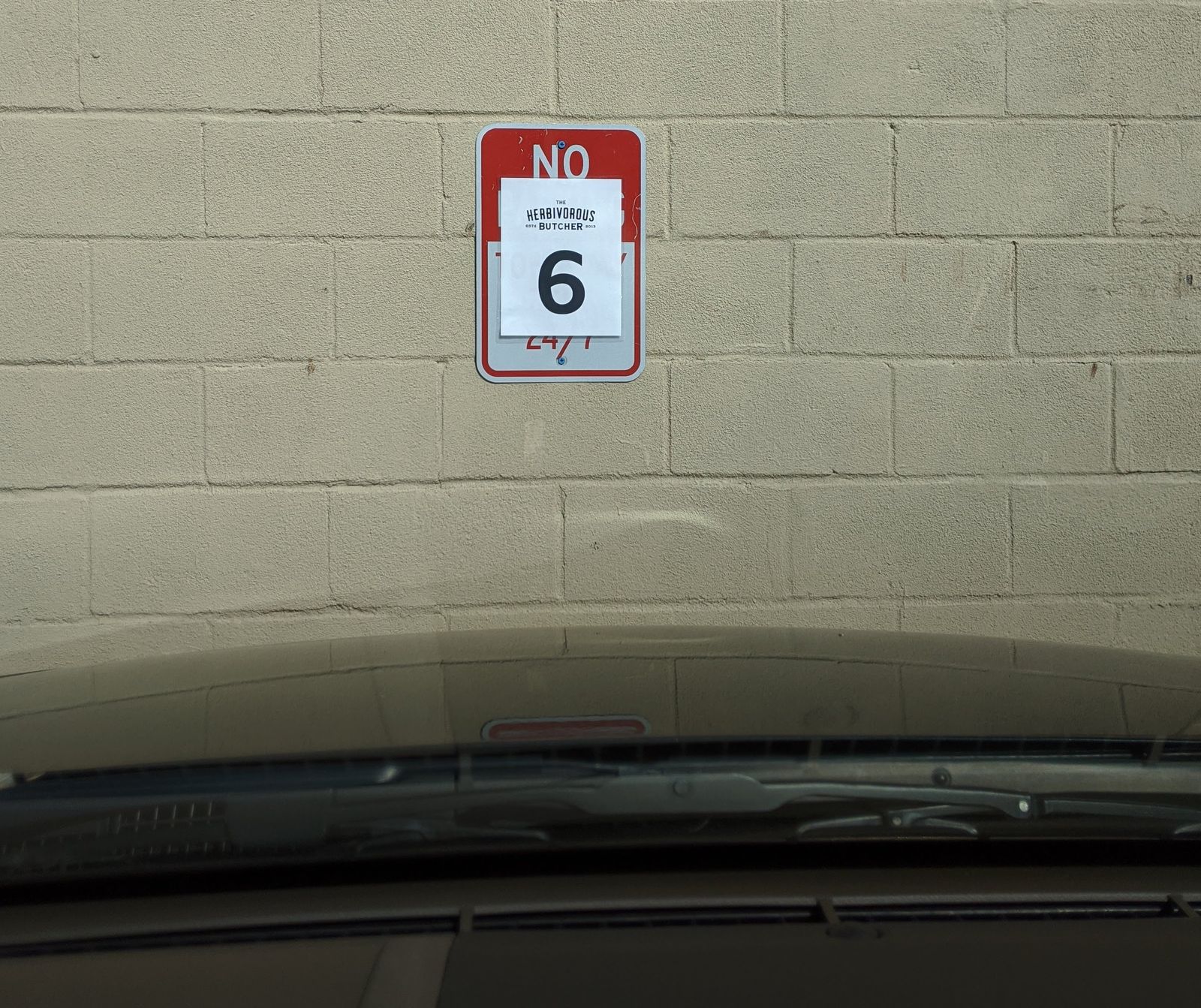 And then I thought I heard, "Carissa!" Was someone yelling my name?
I looked out the window, and about 40 feet away, a person was waving to me from behind a fence.
"Can you get out?" they were saying. They were holding a brown paper bag that I figured must be my order.
I stepped out and stayed near the car.
"Come here!" they were beckoning.
Nope. That was not in the plan. Was I supposed to go get it from them?
I took a couple steps closer, trying to seem friendly. That is a hard thing to do when you are dressed in sunglasses and a pink neckwarmer pulled up over your nose and really just want to get back home and change your clothes and wash your hands.
"I'm stuck out here!" they said. "Could you go in the store and tell them, 'Lisa locked herself out on the patio?'"
What? Go in the store?! I'm pretty sure the website instructions had said that wasn't even allowed.
"Just open the door and yell it to them," Lisa prodded when I didn't move.
What would you do? I thought of just getting in my car and driving home. I wanted my faux Italian sausages - those things go great in stirfry. But at what cost?
I walked to the road. There was no one in sight. I walked to the door of the vegan butcher. There was a bench outside where they place takeout orders. The website said that's so that if you're on foot you don't have to go in the store.
I used my jacket to open the door. There, a sign said to "WAIT HERE!"
People wore masks. I think. It's all kind of blurry now - I was in a state of high stress.
I told them my message.
"What?" they asked.
I guess my neon pink facemask was blocking my vocal projection.
"Lisa is locked out on the patio! Can you let her in?" This time I yelled it.
"Oh, okay!" they said.
I let the door slam and sprinted back to the safety of my car, where I sanitized my hands while I waited.
Lisa came out a minute later, wearing a mask, and popped my order in the trunk. "Thank you so much!" she said.
She even texted later, saying, "Thank you again for helping me!! 💚"
"No problem! Glad you weren't stranded!!" I replied, leaving out the fact that I almost had done just that.
When I told Megan my story, she immediately said, "You have to write a post about that!"
"But I'm doing small wins posts. This was definitely not a small win!" I told her.
"Well, not for you!" she pointed out.
Ahhh. Yes.
So, in closing, while this was not a small win for me, this was definitely a win - a big one - for Lisa.
Small wins (and big ones too).
**Sadly because of the difficulties of video chat, I have discovered that it is better not to insert hilarious comments while someone is telling you a story.