"What's that, Mama?" Little L asked as she threw her body on the floor of my walk-in closet, rolling on her back and waving her feet in the air. Seriously, I do not know where this child gets her energy from.
"It's a dress I'm going to wear to work tomorrow," I told her. I was getting ready for Open House at the beginning of the school year, and I thought I'd wear something a little nicer. I had gotten a new dress this summer but hadn't had occasion to wear it yet. On top of the dress, I'd laid out a long necklace with a pale orange pendant that I was planning to wear.
"I like your style, Mama," she said. "Can you wear it sometime when you're not at work?"
"Sure, honey," I smiled. Maybe she was sick of seeing me in my comfortable yet repetitive "Momiform."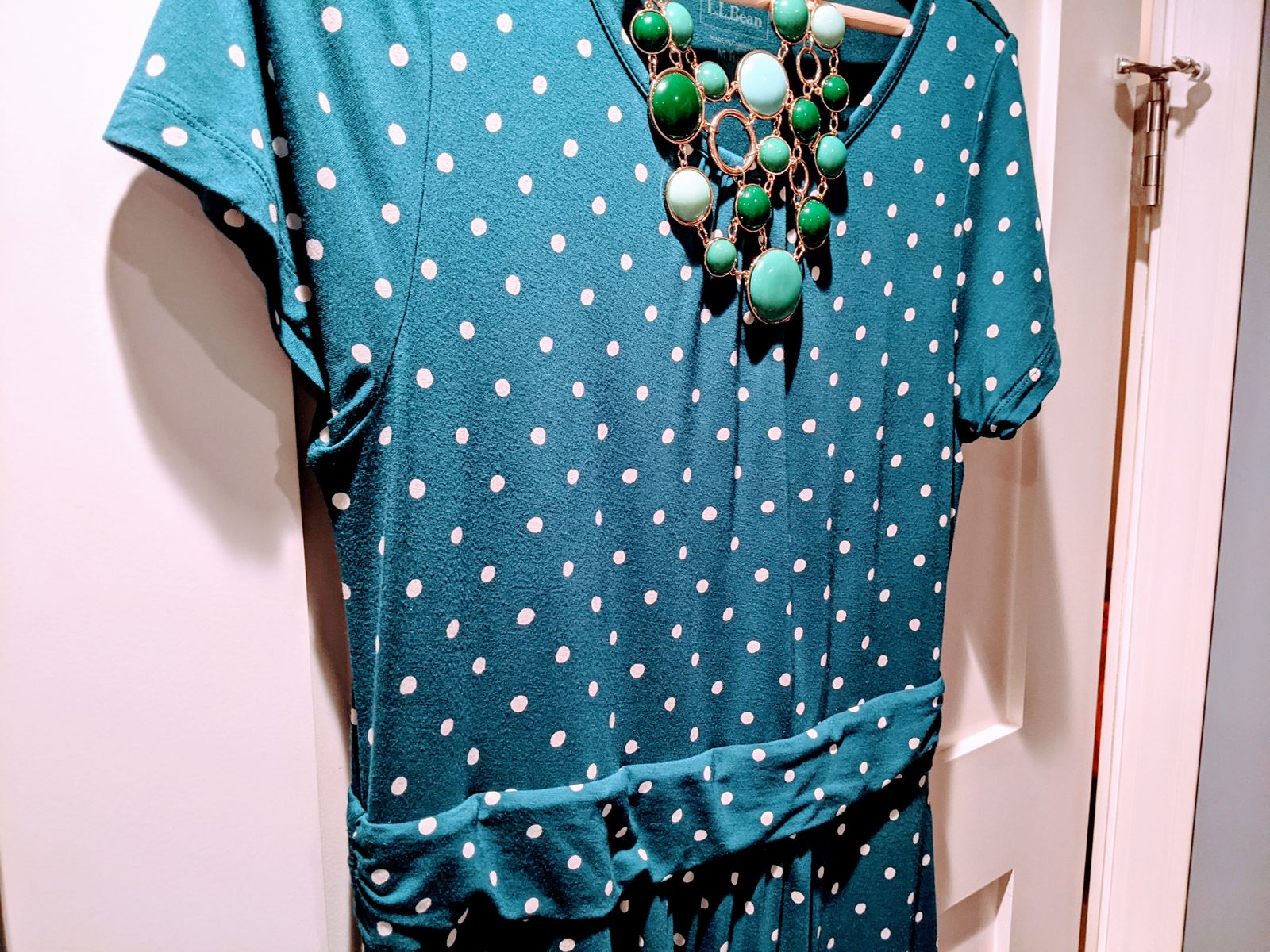 The next morning I was still getting dressed when Little L's green light came on. I heard her open her door, close her door behind her (so that her "aminals don't follow her out") and run to find me in my closet, where I was already wearing my dress. She grabbed at the skirt and looked at me. "You have to wear your necklace, Mama," she instructed.
She was right. I put it on.
"Mama, I hope you enjoy your style, Mama," she told me.
"Thanks, love! It's fun to wear something new! I bet I will," I told her, throwing a sweater on and hoping she'd approve.
"Mama, I hope the people at your work enjoy your style too." We were in the transition weeks where I was already back at work but she hadn't yet started school. She was enjoying long days with her grandparents, but she'd made plenty of protests about me having to go to work.
Fast forward an hour. I hadn't been at work more than fifteen minutes when my friend the Art Teacher stopped by my room to chat. "I like your dress!" she told me, and I relayed the anecdote. "I am definitely enjoying your style," she assured me. And then, because she's a visual arts teacher, she added, "That's great that Little L's noticing different aesthetics."
My friend Ellen dropped by my room a few minutes later and it turned out that she, too, was enjoying my style.
A couple weeks later, I decided to give the people what they were asking for - I would wear my teal polka-dotted dress on a non-work day. I put it on in the morning. "Why are you wearing your dress, Mama?" Little L asked.
"Because you asked me to wear it on a day I don't work!" I told her.
"Yeah," she said - I love these new phrases that I didn't hear when she was three: yeah, okay, sure. "You need your necklace."
But try as I might, I could not locate my necklace - a necklace, I might add, that I had worn only once since moving to our house a year ago. In the search for the pendant, Little L saw me come across a bag of necklaces.
"What's that, Mama?"
She pulled out a huge teal necklace that I had been convinced to buy when I met for free with a stylist at a thrift store years ago. The naive twenty-something was hoping I would aspire to more than yoga pants and hoodies - she even sold me a pair of used ballet flats.
"Mama, you can wear this," Little L handed me what I believe said stylist would call a "statement necklace."
By this point I'd backed myself into a corner. If I refused to wear it, we would have to continue the search for the pendant. I had a feeling that if I tried to wear the dress, which I was in essence wearing just for her, without accessorizing, we might be in for a morning meltdown.
So there I went, clad in a dress and a statement necklace to drop Little L off at preschool. I felt like I was playing dress-up.
But Ms. Colleen, the preschool teacher, was on Little L's team. "Carissa," she said, and I was surprised she knew my name; perhaps a sign I'd been emailing too much; I think of my students' parents as "Little J's mom."
"I like your outfit," she said.
Not my dress, but my outfit.
My style.
"Thanks!" I said, happy that the only person I would see outside of my home today had noticed my extra effort. "Little L wanted me to wear it."