"Up or down?" Axel asks, his pointer finger hesitating above the screen. He's about to spin the Vitality Wheel, thanks to all the steps I took this week.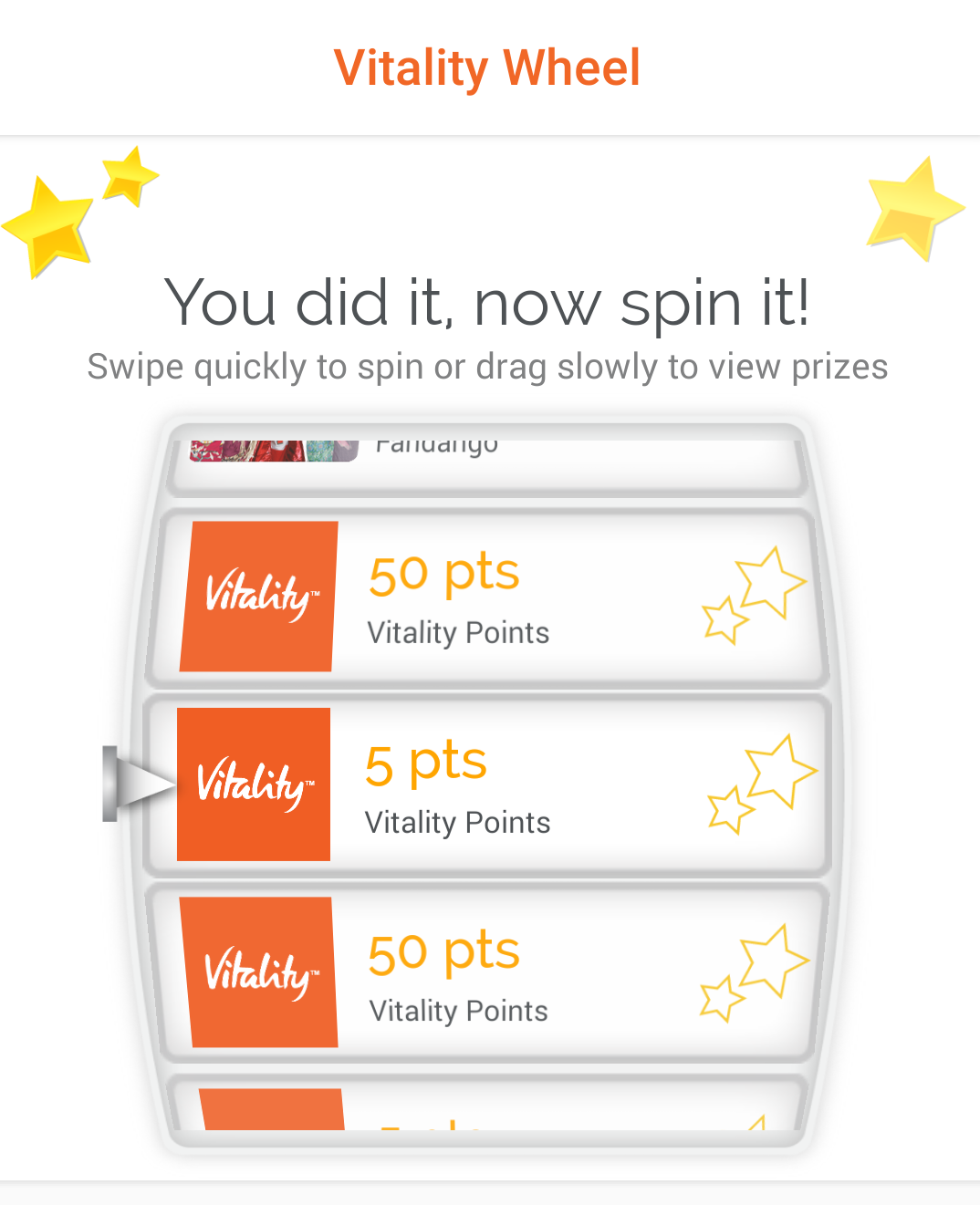 Through my work, I have this cool wellness program called Vitality where you can earn points that you can redeem for gift cards!
Every January when the new plan year begins, I dutifully begin my health assessment, goal setting, and online "decision tool" sets - anything to earn my points. 
There's a way to earn points every day though. It's by getting a "workout" in. This can be done either by going to a gym (or in this pandemic day and age taking a selfie with a fitness app) or walking a certain amount of steps. Based on what you do or don't do, you get a Light Workout, a Standard Workout, or an Advanced Workout for a total of 5, 10, or 15 points each day. Or nothing, if you, you know, you don't do any of that.
The app monitors your fitness and decides how much they think you can do in a week. Then they set a weekly goal for you. If you get all the workout points for that week, you get a spin on the Vitality wheel!
Early on, I started letting Axel do my spins. I think Meghan may have been a guest spinner once too.
You can earn from 5 points on a spin to 50, or if you hit the jackpot you can earn a $5 gift card. We usually get 5 points, which is the equivalent of 5 cents. It feels disappointing, especially when I've gone out of my way to meet my weekly goal. Pre-quarantine, if I was short on steps, we would go out in the hall to walk after Little L was in bed. Many a neighbor has asked what we're doing. Now, if I need more steps, I just walk back and forth in our apartment, listening to podcasts during Little L's nap time. It's actually become something I look forward to.
Not to mention that Little L and Axel and I sometimes turn on music before dinnertime and "race around," as Little L says. She pulls out chairs and tells us that the roads are closed. Or holds a blanket up and says we can't go through the curtain. Sometimes she goes for half an hour, running back and forth, with no hint of slowing down. Would it be cheating to put my FitBit on her?
This past Sunday, Axel was flying high. He had finished up all of his grading for the semester, not to mention turned in papers for his final projects and gotten positive comments back.
"You're on a roll!" I said. "You should do the Vitality spin!"
"Up or down?" he asked, poising his finger above the wheel.
"Whichever!" I said.
He spun. It started slowing down.
It didn't land on 5 points! or 10 points! Or even $5.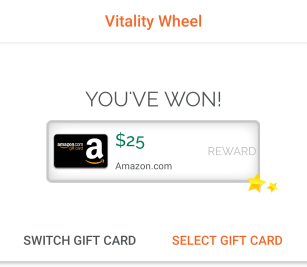 He earned a $25 gift card with his spin!!!
That's the equivalent of 500 spins 5-point spins - almost two years worth of our average weekly winning.
All in just one spin! Good work, Axel. I may have walked the walk, but you spun the spin. 
Small wins!