Did I tell you Little L's school shut down for two weeks?
Well, not her entire school - Just Little L's class. Luckily she tested negative (three times) and we were able to enjoy the imposed at-home period. Kind of. As well as you can imagine.
I had been texting with a mom in Little L's class pre-shutdown about scheduling a park playdate. In light of the quarantine, she suggested that the girls FaceTime instead. "Maybe they could play Candyland!" she said.
We didn't have Candyland, but, lucky for me, my mom, who we all now call Gamma -even Axel- has just about every game you could ever need! I asked her if she could bring it over.
The first playdate, the girls showed each other their rooms. I'd only met the mom in person once, briefly, and here I was with my face and room full of dirty socks amplified on her phone.
A week later, because, remember, this went on for not one week but two, the same mom asked if Little L wanted to play Candyland. "I'll dust off the box!" I said. The joke is on me, though, because my name was written on it. Am I that old?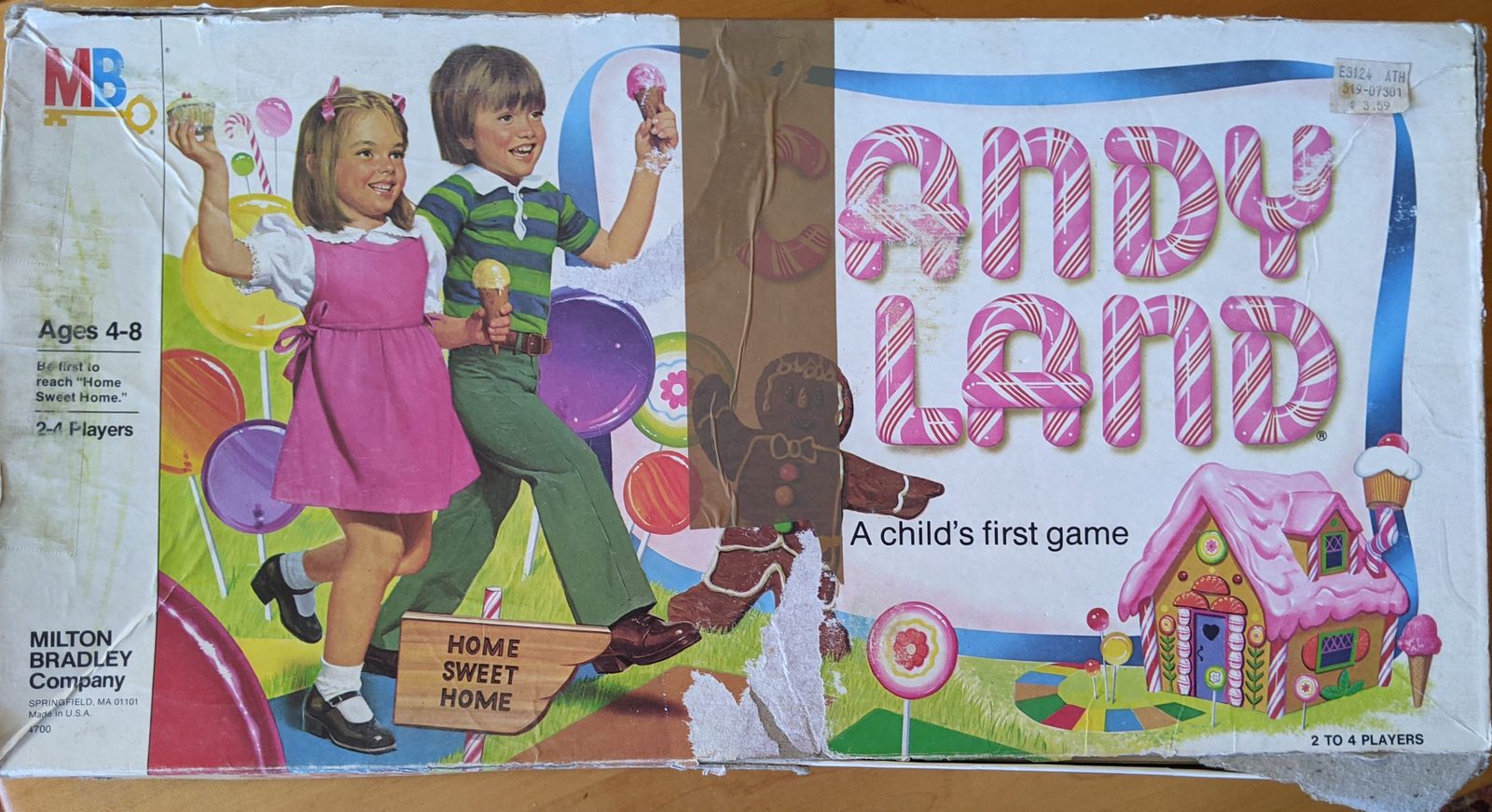 Little L and I got the phone set up and Little E's dad got her on Zoom. I had only met the mom and now I was on a playdate with the dad! I showed him the box we were playing from. "Wow! That must be an original!" he said. "We have the new version." To be clear, the original Candyland was made in 1949. Ours is a 1978 version.
Little E was in her kitchen eating cheese and sipping water from a glass as she played. The first game concluded; she beat Little L. We played again.
At one point Little E told us she lost her turn. Our board didn't have a "lose a turn" feature, but it does have a red Cherry Pitfall, a yellow Taffy Pull, and a blue Cotton Candy Pull. Once you fall into one of those, you have to wait for someone to draw the color before you can go again. It's a lot of waiting.
Needless to say, Little E won the second game as Little L sat in the Cherry Pitfall hoping for a red card to be drawn. "Do you want to play again?" Little E asked Little L, who shook her head no. I couldn't blame her.
Later that day, I played against Little L. This was my first Candyland adventure in recent memory. It was hard! Yes, it's great to draw a special card and catapult forward to the Ice Cream Floats or the Lollipop Woods, but if you draw a candy heart or get sent to the Peppermint Stick Forest when you're just spaces from winning.... back you go.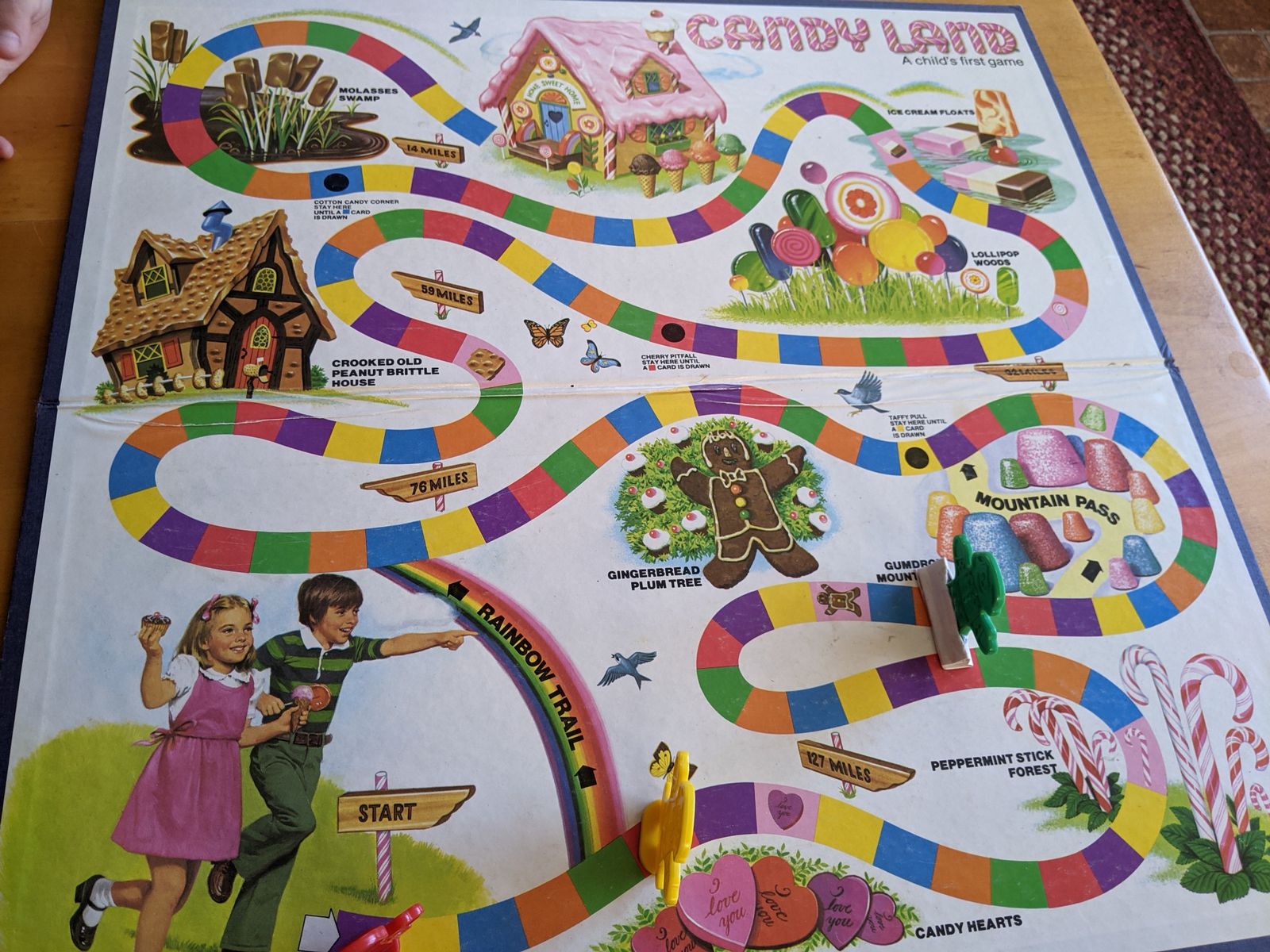 A few weeks later, Axel, Little L, and I spent an entire weekend playing Candyland. There was one epic game that lasted an hour. Wikipedia claims the game lasts 15 to 21 minutes, so something was horribly off. Every time Axel was about to get to Home Sweet Home, he would draw a candy cane and back he went. We had to shuffle the cards seven times, and each time we shuffled, we knew the likelihood of drawing a "special card" was there again.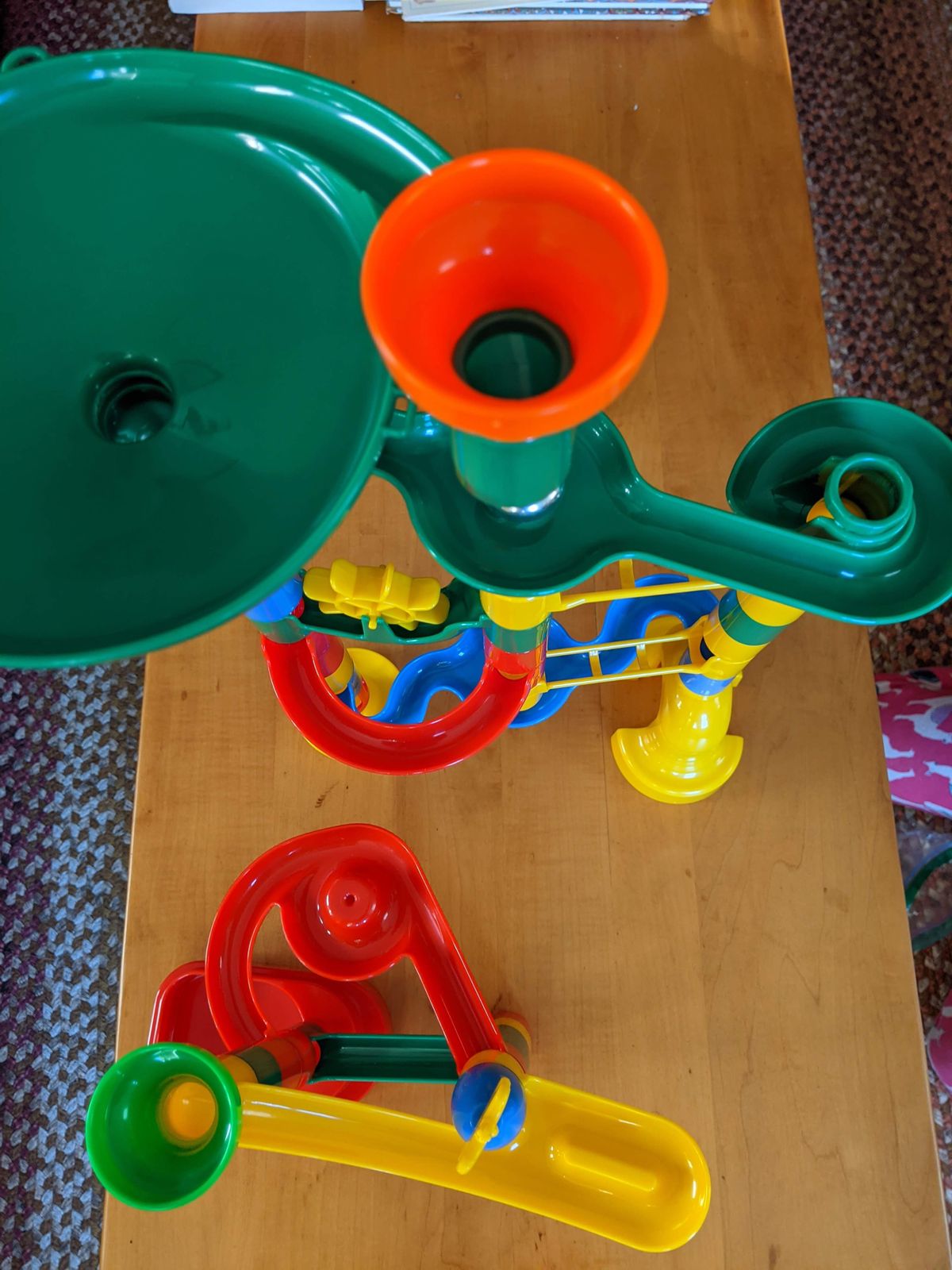 "Wow, this old version of Candy Land must be harder than today's version," Axel surmised. "Maybe Little E's board didn't have all of these traps." Had Milton Bradley gotten feedback that kids didn't like getting stuck in pits for turns on end? A quick search on Wikipedia tells us that in the 2006 edition, the Taffy Pull, Cherry Pitfall and Cotton Candy Pull were replaced with licorice spaces that prompt a player to "simply lose the next turn." Looks like Milton thought the kids of the new millennium needed something simpler.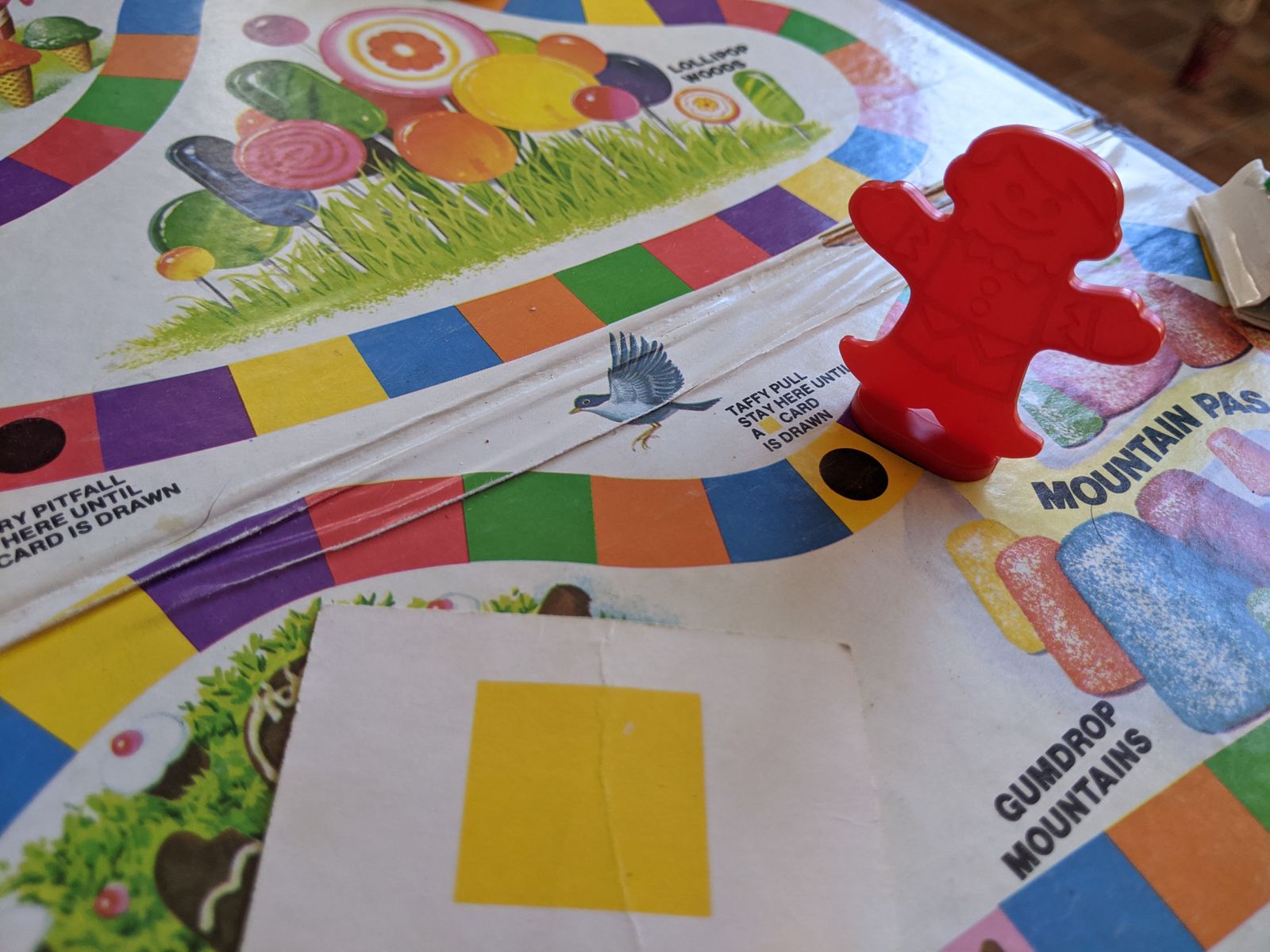 As the minutes wore on, Axel asked, "Do we have all of the cards?" Behind the duct tape, we could see that the torn box advertised 64 cards. We did a little sorting exercise and counted them up.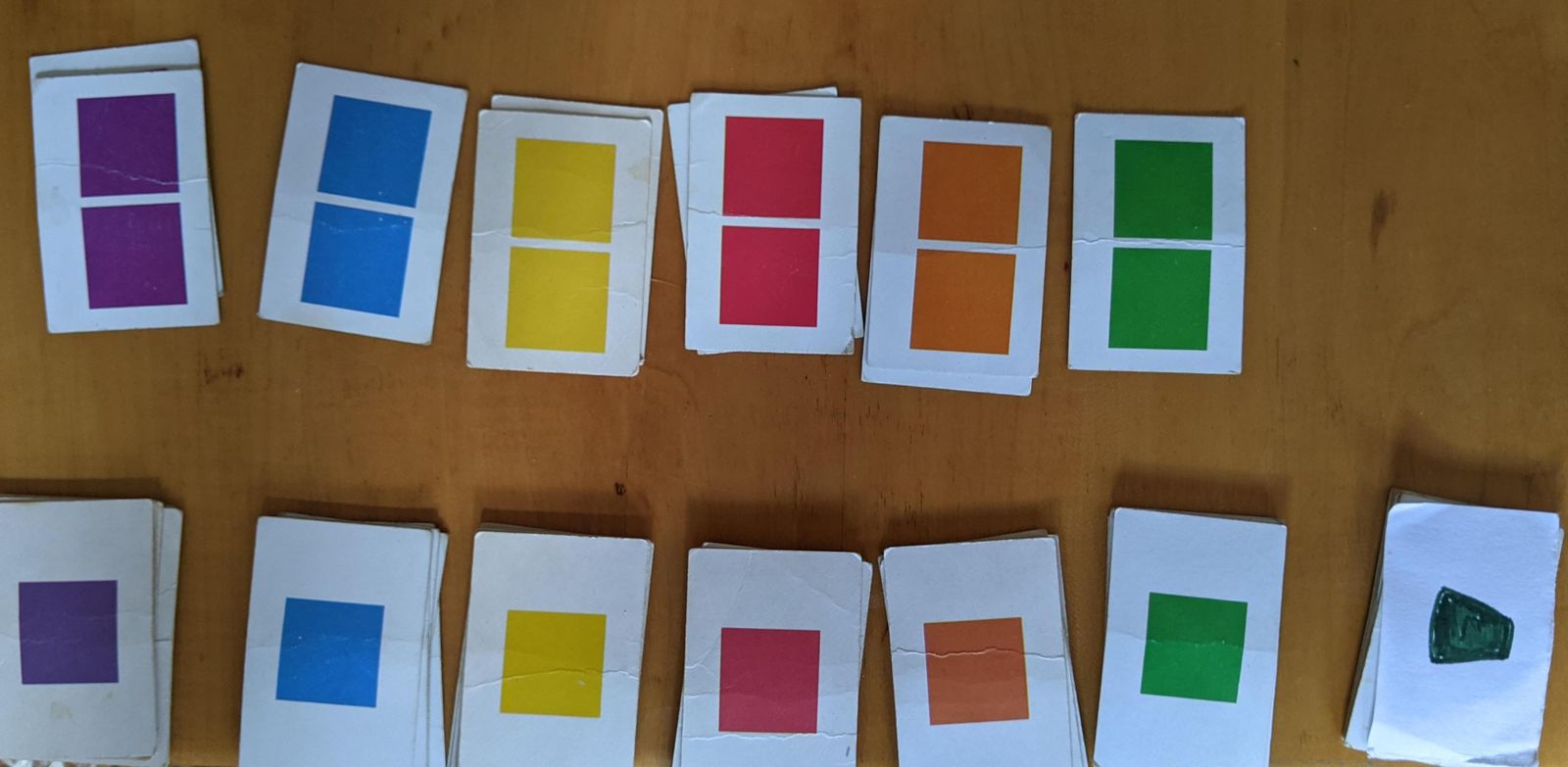 We had only 52 of the 64 cards. To be clear, we still had all seven of the special candy cards, the ones that send you flying forward or backward on the board. All of the cards that we were missing were normal color cards, the ones that help you actually win!
My thought: let's figure out which ones we're missing and we can make them! There are so many ways I'm like my mom, and making cards by hand seems perfectly reasonable to me.
"We'll have to dye some cardstock," Axel told me. "We could use tea to make it look ancient like the rest of these."
The problem was, we weren't sure exactly what cards to make. There seemed to be no logical pattern to it. 64 cards. 7 were the special cards, leaving us with 57 cards to go in six different colors. It would seem that it should be a multiple of six.
So Axel began looking it up on his phone. We couldn't find an easy answer - how could the internet, which knows what specific chemicals create "new car smell" and the fastest way to get from your house to a cup of coffee, not have information on this? What Axel did find out was that our version was the 1978 version of Candyland, predating even me. I guess my mom got it in preparation for motherhood.
Axel found people selling sets of what they called "Vintage Candyland cards" for less than ten dollars. He thought that purchasing a pack would be the best way to set the record straight on what cards the game was supposed to contain. Also, the pack included all new - from last century - vintage gingerbread people.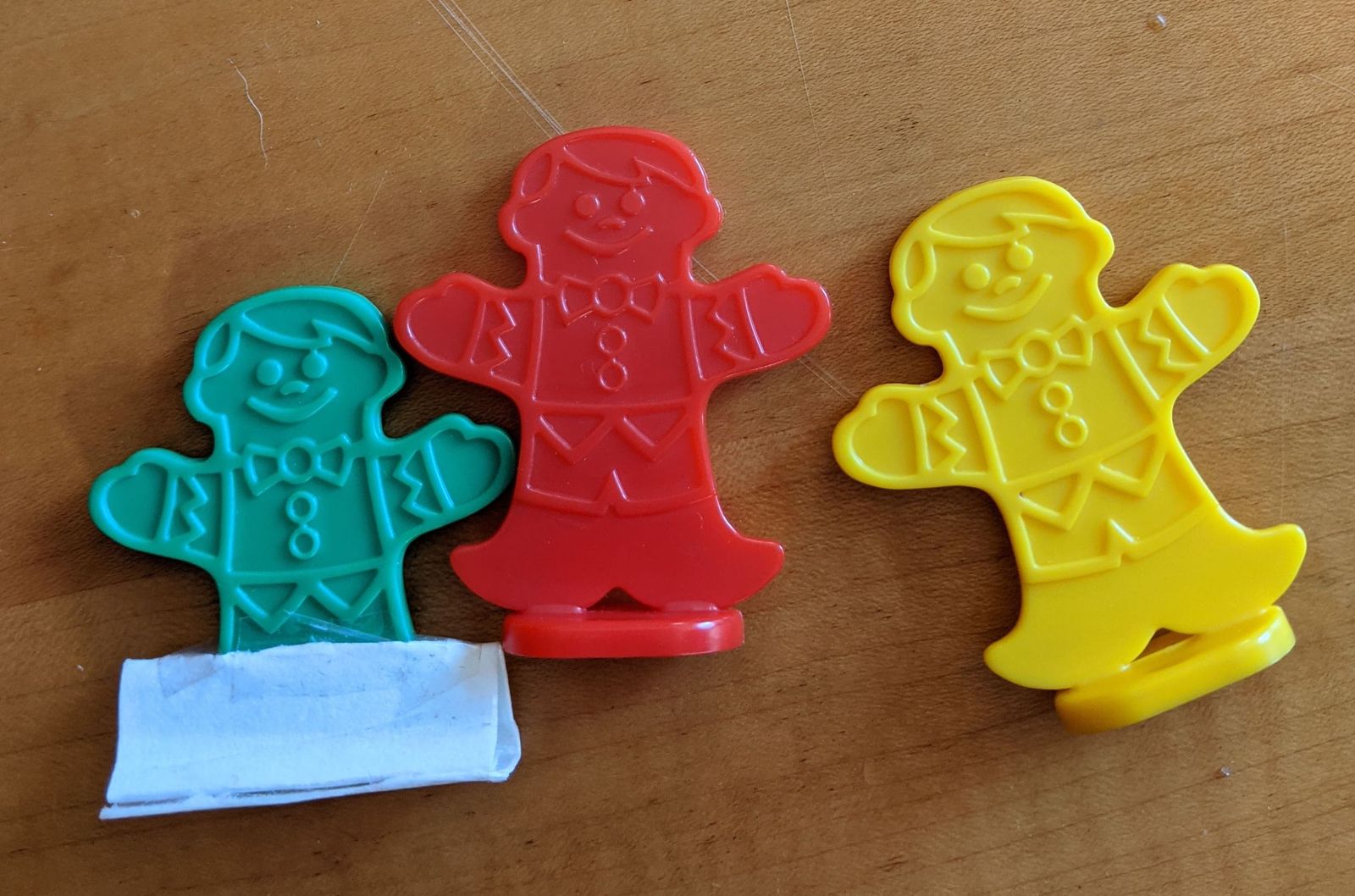 The vintage replacements were ordered. Was Gamma ever surprised to see the blue gingerbread person appear at our house - apparently the blue one was just in the back of a cupboard somewhere in her basement. But the new gumdrop card did not match the cards in the deck we had - these vintage cards were perhaps of a different vintage.
That week Axel spent many minutes - dare I say hours? - at his computer and later over a printer, perfecting a label that he placed over one of the new old cards we had gotten.


So the gumdrop problem is solved. The question of the correct 64 cards, however, remains. The replacement card set came with about 200 cards. Which ones, exactly, are the 12 we are missing?
It will soon be Baby D's birthday. Baby D is Little L's first friend and the son of my original mom friend Veronica. Actually, Baby D is turning four, so although he'll always be a baby in my mind, we should call him Little D now. I talked to Veronica about sending Little D Candyland to their California home as a birthday gift - perhaps we could do some online Candyland playdates (for the kids, I mean).
"You have to send him the vintage version!" Axel told me. "Otherwise it won't be as fun to play together." This did seem to be true from playing with Little E, but maybe it was just a fluke. Or maybe Little E was just exceptionally good at Candyland.
"And tell Veronica to send us a photo of all the cards laid out side by side so we can see what we're missing," Axel added, already locating a taped-up 1978 Candyland set on EBay.
Little D's Candyland set will not be new, but it will be complete. We hope. And vintage. Which just may make him the coolest gingerbread kid on the California block.
So Baby D, I mean Little D, it's your turn.
Show us your cards.