This week's Post from the Past is the original post when I first started my Loft Living column for The Journal, which later morphed into my very own Good Work Great Life blog. I thought it would be fun to revisit, especially because Axel's current desk set-up closely resembles the long-ago one talked about here. While for awhile we had a full separate "office," that is now Little L's room, and Axel's work area is again in the corner of our bedroom.
Originally published September 29, 2014, in The Journal.
"And this is the office," we would say when giving tours of our one bedroom condo, the tour itself never exceeding thirty seconds. People would smile, laugh, or shoot us a sympathetic look.
It all fit perfectly: the filing cabinet taking up the entire width of the small closet, with the printer on top, boxes full of pens and stamps and paper clips all engineered in expert Tetris fashion into the small closet in our bedroom. A wire set of drawers contained extra electronics like batteries, cords, and an unused video camera. The finishing touch was our framed diplomas – and even our marriage license – displayed on the wall in the closet. My husband's name plate from when he'd worked in a corporate office fit perfectly in the space between the wire rungs of the clothes hanging bar. No clothes hung from it, obviously.
This small closet, paired with the 4 feet by 4 feet nook in the corner of our bedroom, served as an at-home office for my husband, who worked from home in this condo for over a year. We had downsized from a two-bedroom townhome to a one-bedroom condo. Many things had to go in that move, and we had to be creative in fitting our two-bedroom life into our one-bedroom-with-no-storage-locker condo. Of course, we had a pool, so who were we to complain? Swimsuits don't take much space.
There were upsides and downsides to the closet-office situation. One upside was the price difference between renting a one-bedroom and a two-bedroom condo. Or between doing business in your bedroom and renting an official office space with no dirty socks in the vicinity. We were saving money. But on the days I came home and my bed was covered with stacks of papers, I wasn't thrilled.
"This is a bed," I'd tell my husband. "Not a desk." There were occasions when I stood in my pajamas alongside the bed, daggers flashing in my eyes, threatening that if my husband didn't move the office off the bed so that I could lay down and read right this second, I would just get in bed anyway, destroying the filing system he had created on top of the purple duvet.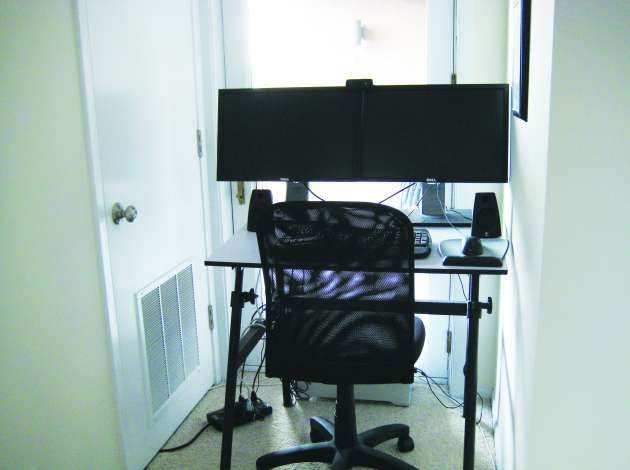 While at times it was less than convenient, it was as if the bedroom was asking us to make it into an office. The room was a rectangle, with an extra nook. The extra nook was just the size to hold my husband's desk, and it had a view of downtown! Sure, it blocked off the balcony access from the bedroom, but how hard was it to just walk out into the living room to access the balcony? It was hardly a long walk. Once, when we were doing our taxes, we had to indicate if we used any part of our home as a dedicated office space for my husband's business. Since the space in question was only about the size of – well, a small drawing desk – we let that one go.
My husband's desk blocked the closet that held the air conditioner and furnace for our unit. That didn't matter on a daily basis, but once, when the heat went out and the landlord sent over a maintenance person, we had to disassemble my husband's whole office – which contained a desktop computer with two monitors – in anticipation of the visit. Business was slow that day.
We have since moved to a two-bedroom apartment. It's not a ton larger, about 400 square feet more, but 400 square feet makes a big difference, especially when you count the added cubic feet of our loft-style ceilings (in our last condo, we practically hit our heads on the ceilings; both of us frequently get asked if we play basketball). Things feel much more spacious these days.
We now have a second bedroom that serves as an official office. In fact, not only is my husband's desk set up, but my desk, which had been stored in my in-laws' attic for a year, sits in the other corner of the office, with an ideal view for people-watching. And yet, do I ever work there? After my year without a desk, in which I got used to writing in the kitchen, on my current desk you'll find piles of papers and to-do lists. A nearly unusable space. Underneath my husband's desk, you'll find those piles of papers, the ones that I used to find on my pillow at night.
The take away from all of this? No office is the perfect office. But you can make some sort of office just about anywhere. Be proud or your ingenuity, and don't forget to show your visitors your yoga room or ski-waxing area, even if it's in the laundry nook or your parking spot.