This morning Little L and I saw her***! At least we thought we did. We saw a shadow near the door right before the lights went out.
Was it Woof-Woof? Or a new sofa?
Now that the leaves have fallen, we can see the house across the way.
Aren't they pretty much asking us to keep tabs on their dog?
Little L's first winter, I remember spending a lot of time rocking her in front of the window, looking out on the world below - yes, it still existed. One of the sights was a dog rolling around in the leaves and snow.
Last year we shared this sight with Little L. Just beginning to make words that people could understand, she referred to our furry friend, with her shiny black coat and white-tipped tail, as "Woo-Woo."
Then around New Year's when my dad came for a visit, we wanted to show him Woof-Woof… but we hadn't seen her for quite awhile.
"That's because Woof-Woof might be… AAAACK!" Axel made a gesture hypothesizing that Woof-Woof was no longer part of this world.
"Woo-Woo Aaack! Woo-Woo Aaaack!" Little L ran around saying. Whoops.
But a few days later, we saw her. Woof-Woof was not, as Axel had stipulated, aack.
All summer we didn't see Woof-Woof, but with the leaves on the trees, we can't get a clear view of her backyard or living room.
There was one possible spotting as we were walking down the street; I was relieved that Woof-Woof's people didn't seem to recognize us.
Eagerly peering across the way, I'm reminded of weekend mornings with my childhood friend, who I'll call Lauren, with a spy notebook in hand, observing the neighborhood happenings. "Golf ball on street," we wrote. "Where did it come from?" Little L and I should start taking notes. "Lights on at 7:02AM," we would record. "Movement downstairs?"
"Once the leaves fall, we'll be able to see Woof-Woof's house!" I told Little L as fall approached. Although Little L no longer calls dogs woo-woos, the name had stuck.
And just as I'm starting to doubt myself, this morning, in the early morning dark with the lights on inside Woo-Woo's house, I saw something hovering near the door.
Could it have been?
Little L and I had pulled an ottoman up to the window to make ourselves comfortable.
"Where is Woof-Woof?" she asked me.
"What do you think? Maybe sleeping? Eating?"
"Woof Woof's sleeping," she said, sliding down off the ottoman.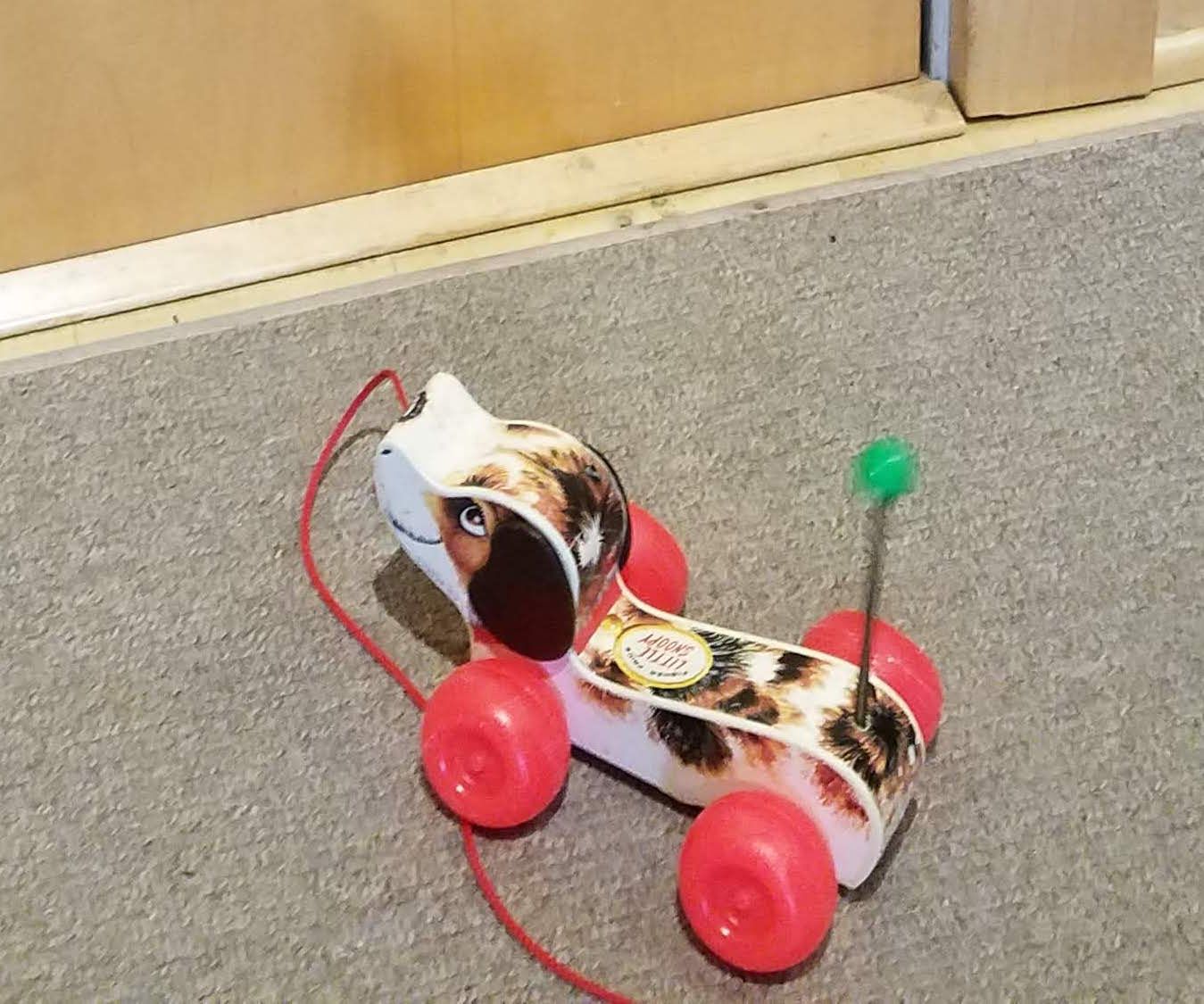 And then I spotted a black formation near the glass door that leads outside.
"Little L! Look!"
She scampered back over.
"Do you think it's Woof-Woof?"
She laughs. "Yeah."
But then the people turned the lights out, and we couldn't see Woof-Woof anymore, even though we knew she was there, and perhaps she'd seen us too.
"Where is light?" Little L asked.
"Oh, the people probably turned it off to go to work," I surmise.
Or else they've seen us and just want a little privacy.
But as the days go by and I'm able to get a clearer view into their house with the ever-falling leaves, I'm not totally convinced that we've seen Woof-Woof. Maybe it was just a new sofa.
I'm not giving up hope, though, and neither is Little L. It's not even winter yet. We've got at least six more months to search for Woof-Woof before those pesky leaves grow back.
And search we will.
***Because I do not know if Woof-Woof is female or male, I am referring to her here as a "she." Why do so many books and songs automatically default to referring to all animals as "he?" Come on, modern culture! Get with the times!