Last year, we did four Zoom Thanksgivings. We were stuffed.
This year, it's not back to normal. We're still not flying to California, where the annual Thanksgiving gathering won't take place anyway.
But we aren't having ZoomsGiving, either, which we felt compelled to do last year based on case counts and the pleas of Faucci. This year, things are different. Kind of. We're going over to my mom's house, where there will be seven of us total. Everyone is testing beforehand.
But there's a caveat. In order to keep the integrity of Thanksgiving pods - and a longer story I won't go in to - my brother "David" has come to stay at our house. He arrived Tuesday night and he'll be here until after Thursday's gathering.
Now, this is noteworthy for a couple of reasons. One, he is our first overnight guest in our new house. And two, he lives just five minutes away.
He arrived yesterday in his forest green Honda, carrying a backpack and a tote bag. He'd come between meetings. Axel set him up to work in our basement office. "Which station do you want?" Axel asked, beginning to clear off his own desk. But David went and sat down at my station. I'm guessing this is because it was uncluttered and because it was near the window, and like me, he enjoys some good people-watching.
When I brought Little L home from school, she said "why are these shoes here?" which at first I thought was a complaint that her uncle had put his shoes where hers were supposed to go. But then I gave the simple answer, "because he's here downstairs in the office." She smiled and in an act of adorable confusion, having a strange gap in vocabulary at the word "niece," said, "Do you think he will hear giggling and know that his daughter is home?" She descended into the basement and started running circles with the frenetic energy of someone who is weaning off of naps and is going haywire.
David emerged from the office. "You have a lot of energy, kid," he said, joining me on the couch.
The first night David got us takeout from Gorkha Palace. Little L ate almost all of the naan. After a rousing game of Candyland, which David won - "beginner's luck," he said - we got Little L in bed. In our pajamas by 7PM, we grownups played Mario Kart in the basement while I listened in (with the camera off) on the Parent Education class I'm taking.
"This is fun," Axel said. "We should make this a tradition."
Well, not the circumstances around it, obviously, but the sentiment.
"You've never come to stay with us before, huh?" I noted. There's really no need for an overnight when you live just down the road.
Our Minneapolis houseguest. Minneapolis-Giving.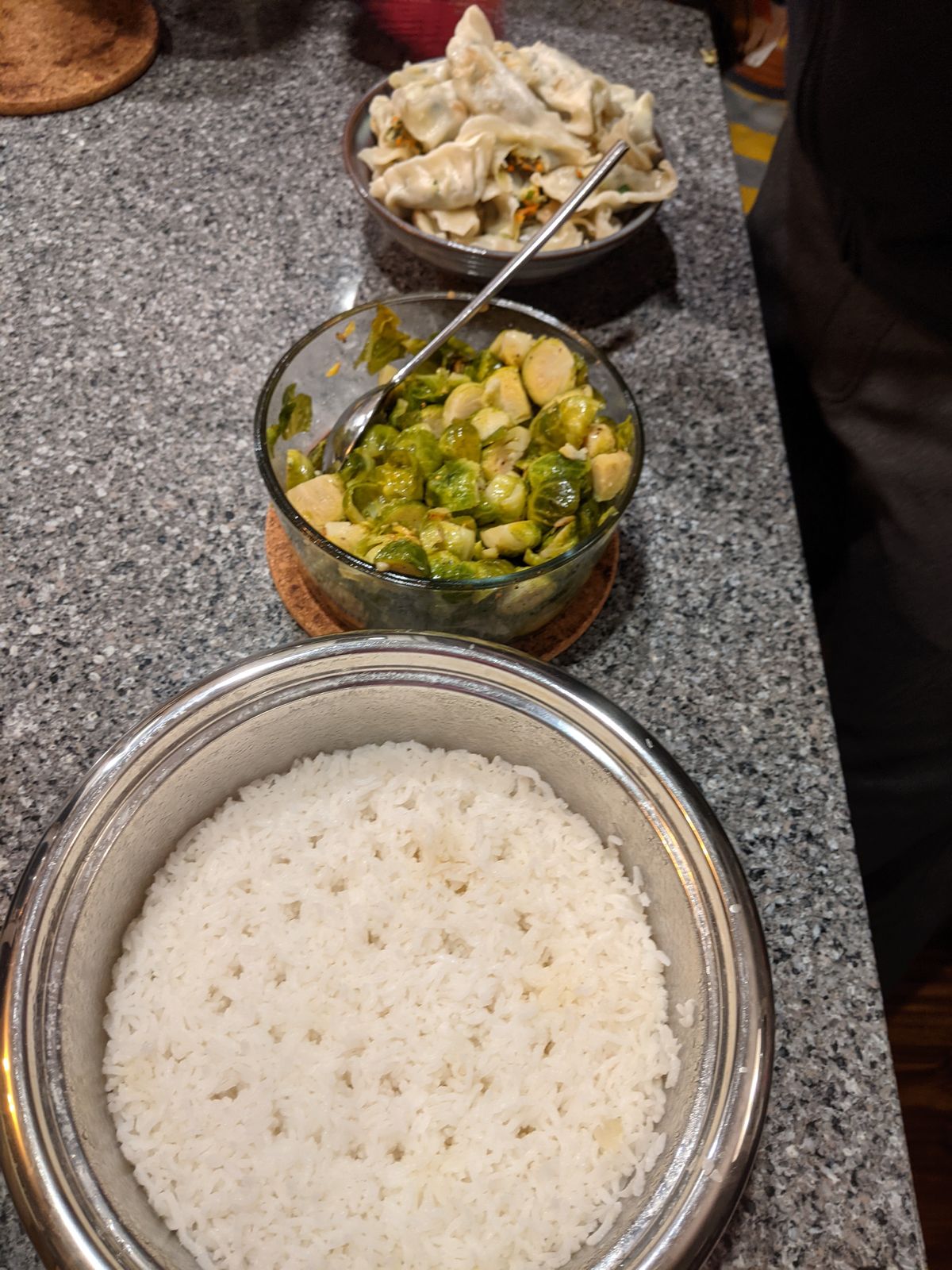 Whatever you choose to do or not do this long weekend, may you enjoy your time physically or virtually with your loved ones, near or far. And may your children or cats nap, or not nap, and just go to bed really, really early.