Everyone says, have a back-up lovey.
What's a "lovey," you ask? It's the new-fangled parenting lingo for a stuffed animal or other item that is particularly special to your kiddo. It could be Baby Fox, a dirty pink blanket, or in Little L's case, a polar bear named Oso.
On Little L's first day at her two-morning-a-week preschool, I thought it would be a good idea if Oso went with her. Oso would stay in her backpack unless she needed it, which would prevent the problem of possible loss or contamination.
When we picked Little L up on the playground, her teacher handed me the backpack and Little L handed me Oso. Apparently Oso had gone swinging - so much for staying out of germs' way. I put Oso in Little L's bunny backpack and we headed home.
Well, almost. First we stopped inside the classroom for a minute. Then we said goodbye to Axel, who headed out to class and set on our way walking home. It's a half-hour walk, but the weather was nice, if not humid, and construction near the school made walking a better option for people who were trying to get their 10,000 steps in anyway.
Half an hour later, we arrived home. I took the sweaty gray diaper bag off my back and began unloading.
Little L's bunny backpack was nowhere to be seen.
Which meant that Oso was nowhere to be seen.
Little L was entranced trying to reconnect a removable bar on the front of the stroller, so I snuck away and called Axel to see if he had the backpack. When he didn't answer, I texted and emailed him. But I knew that he was already in class and I was unlikely to hear back for at least a few hours.
Could it be that I put the bunny backpack in the bottom of the stroller and it FELL OUT? Could Oso be somewhere along the river leading home from school?
Or maybe Oso was still at school? I sent a quick email to the teacher and then, seeing that Little L was still trying to figure out where this bar went – under the wheels? – I snuck into her room and removed a big plastic crate from the shelf in her closet. I unwrapped a piece of yellow felt, and there it was – Fake Oso.
Except Fake Oso did not bear much of a resemblance to Real Oso. Maybe they could be cousins, but that was about it. Its plush white fur was nothing like the cream-colored compact look of Oso.
Maybe she wouldn't notice?
I set Fake Oso out in Little L's room and returned to the kitchen to get lunch ready. I almost shouted out with relief when I checked my phone and saw that the school DID in fact have Little L's backpack. I must have set it down when we went back into the classroom.
Whew is an understatement.
But there wasn't time to get over there to get Oso before nap time. Little L would have to nap with the impostor.
A few minutes later, once she had given up on fitting the bar through the wheels of the stroller, I heard her scamper into her room. The sound of her little feet on the wood floor can be heard through the whole condo - she almost always runs or speedwalks or prances.
"It's an oso," she said, rushing over with Fake Oso.
"Mmm-hmmm."
"Where is Little L's Oso?" she asked.
For a second it flashed through my mind to lie. Joanie's sister got away with saying she had taken her daughter's doll to the dogwash for a deep cleaning when a shinier version appeared in its stead.
I sat down on the kitchen floor. "Come here," I said to Little L, sitting her body on my crossed legs. "This is SO silly," I began, still formulating what I was going to say. "Oso stowed away at school!"
"Oso so away?"
"Yeah, that means it hid at school! Oso didn't come home! So I'll go get Oso after nap time, but for your nap, you can sleep with this Other Oso."
To my relief, Little L laughed. "Oso say at sool! Oso so away at sool!"
Now, this didn't mean I didn't hear the question, "Where is Little L's Oso?" at least ten times before nap time. But when the time came, Fake Oso assumed the usual Oso position over her head, a sort of replacement-helmet-and-sleep-mask-all-in-one and I guess it did its job because she was asleep within minutes.
I flashed back to the time that Oso had erroneously ended up in the potty and needed a quick rinse-off right before leaving for a road trip. My trusty friend Megan had used body heat to put the final drying touches on Oso just as naptime approached. A nap without an Oso is... (I hope I never have to finish that sentence).
By the time Joanie arrived for the mid-nap coffee date we had planned, I hadn't been able to get ahold of Axel to see if he could go on an Oso Rescue Mission after his class. The problem was he would get out at 3:15 and the school was open until 3:30.
"Do you want to just go and I can just stay here and read?" Joanie offered. I so wanted to catch up with her, but I was on edge not knowing how or when I would get Oso back.
After half an hour of chatting with Joanie, I made the trip to "sool" to get Oso. In Little L's classroom, hers was not the only backpack hanging in the cubby. I wondered if someone else had left their Cute Koala or Bunny Baby. I sure hoped they would be rescued before bedtime.
Back at home, Joanie filled me in on her lovey situation for her older son — there is a drawer full of Baby Foxes that get rotated for equal wear and tear. In fact, he knows there are multiples. If one has been sitting in the car and is too cold, he requests a warm Baby Fox.
However, Baby Foxes do not go to sool.
"Yeah," I said, heeding Joanie's wise counsel. "I think Oso is going to have to stay home from now on."
When Little L woke up, I went into her room with Oso.
"Little L's Oso!" she exclaimed.
I handed Oso over, wondering what was going to happen now that she knew we had two osos on the premises. Would she carry two of them around? Would I need to get two more as back-ups?
"You should start dirtying Fake Oso," my friend Ana suggested. Probably not a bad idea.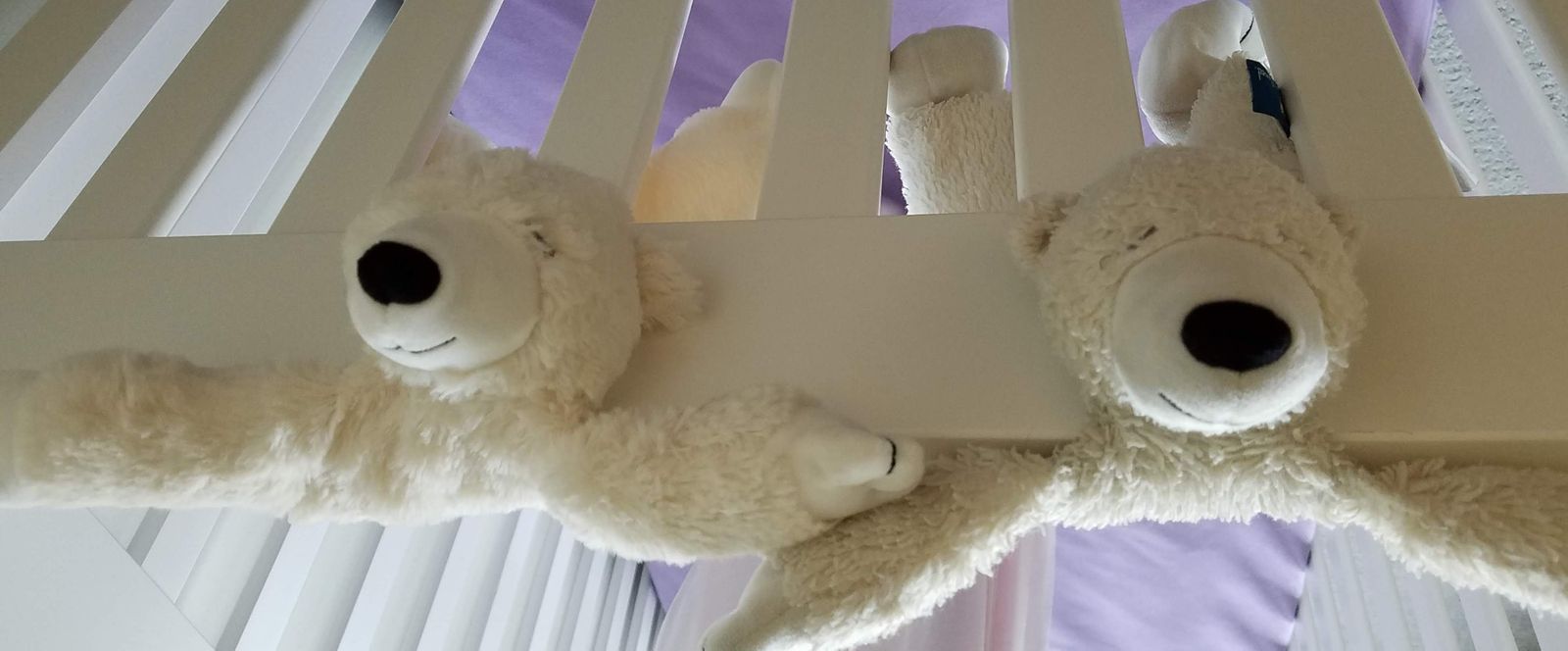 Later that day, I removed Fake Oso from where it had been tossed aside, grateful for the comfort it had provided at nap time, and also grateful that having two Osos had not become a thing. Little L never mentioned it again.
As it turns out, there may be two osos, but there's only one Oso.